kela® medical mouth and nose protection mask,
Surgical mask VIRU-fil, blue, type IIR
The virucidal revolution
certified according to DIN EN 14683:2019+AC:2019

Bacterial filter efficiency BFE 99.88%

Made in Germany, manufactured in Kelkheim
***MADE IN GERMANY ? MADE IN KELKHEIM***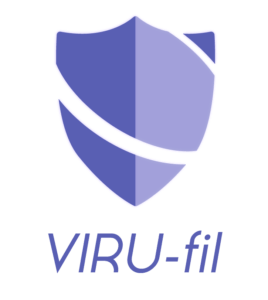 High-quality medical mouth and nose protection mask (MNS)
VIRU-fil - The virucidal revolution, also protects against the omicron variant 99% effectiveness against bacteria, fungi and viruses
VIRU-fil active ingredient is connected to the outer fleece of the surgical mask using a plasma process
Colour: blue (outer fleece), white (inner fleece)
3-layer: spunbond - meltblown filter fleece - spunbond
Particularly comfortable and pleasant to wear
OEKO-TEX® certified inner fleece (face side)
Low breathing resistance
Suitable for allergy sufferers
Fiberglass and latex free
Integrated, dimensionally stable nose clip (particularly suitable for spectacle wearers)
Very soft, elastic and round ear loops
Odorless
No pesticides
Filter fleece from Germany
Spunbonded nonwovens from Germany
Production in Germany
Test laboratory in Germany
Specialty VIRU-fil
The purely biological active ingredient, which is installed as a front fleece on a mask, is based on an active ingredient that also occurs in human cells and, compared to other substances such as silver ions or copper ions, is not carcinogenic and harmless to the body. Viru-fil works directly ? without exposure time? and, to put it simply, destroys the outer virus envelope. This means that it can no longer infect humans.
No use of silver ions, copper ions, nano-silver or polihexanide (PHMB) Read here More about the virucidal revolution VIRU-fil on our website or download the pdf file.
Material composition:
89% Polypropylene, 8% Nylon Polyester, 3% Elastane
Packaging:
1 PU consisting of 1 folding box as a dispenser box with 50 surgical masks each
Marking, certifications and standards:
kela logo engraved on the top right to identify the original mask
CE? Marking: ?CE 14683:2019 Type IIR? engraved on each mask (below left) and on each folding box board
This mask has been tested according to:
EN 14863 Annex B: Bacterial filter performance BFE
EN 14683 Appendix C: Breathability
DIN EN ISO 10993-5: Biocompatibility
EN ISO 11737-1 Microbiological purity
ISO 22609 Resistance to liquid splashes
Inner fleece (face side) OEKO-TEX® certified
Medical MNS (mouth and nose protection; synonym surgical masks - surgical masks) is mainly used in medical first aid, outpatient treatment and in hospital care as well as in nursing and is a medical product. It must meet the requirements of DIN EN 14683:2019 Medical face masks? Requirements and test methods - meet.
Type I medical face masks should only be used on patients and others to reduce the risk of spreading infection, particularly in epidemic or pandemic situations. Type I masks are not intended for healthcare professionals in operating rooms or in other healthcare settings with similar requirements.
Manufacturer:
Kerber & Lampe GmbH
Benzstr. 8
65779 Kelkheim, Germany
Phone: +49 6195 9942-0
Fax: +49 6195 9942-40
Email: sales@kela-schutzmasken.de
Additional information
| | |
| --- | --- |
| Weight | 0,2 kg |
| Dimensions | 20 × 11 × 9 cm |
| number | 50 masks, 100 masks, 250 masks |
Only logged in customers who have purchased this product may leave a review.