The everyday, community, makeshift mask for the private sector
Mouth and nose covers include all masks that have not been tested in accordance with the legal and normative requirements for medical face masks or particle-filtering half masks and are therefore lawfully marketed as such. They are often sewn from commercially available fabrics and worn in everyday life. Corresponding mouth and nose covers may not be named as medical devices or items of personal protective equipment and may not be advertised with corresponding services or protective effects because they have not provided the legally required proof or have not gone through the legally required verification procedure.
(Source: BfArM)
MNS-MedLOG LIMITED Premium mouth and nose protection mask, digitally printed, sheets
kela® LIMITED Premium mouth and nose protection mask, digitally printed, leaves
made like a medical surgical mask

PET/PES non-woven fabric, digitally printed with a leaf design

Made in Germany, manufactured in Kelkheim
50 pcs. Volks- Community mouth and nose mask printed "Fuck Corona"
kela® mouth and nose mask, community mask, 3-ply, blue printed "FUCK CORONA"
Makeshift mask

everyday mask

Made in Germany, manufactured in Kelkheim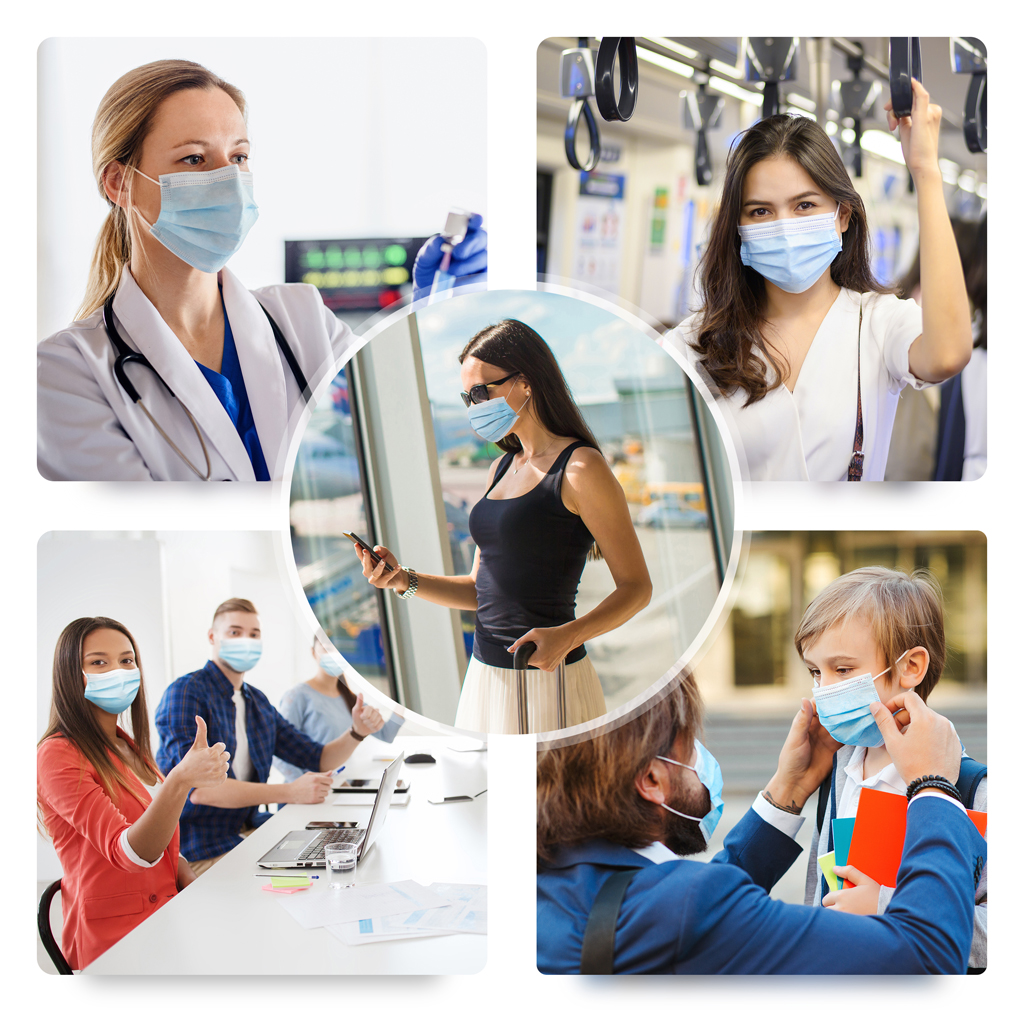 Regardless of normatively defined proof of performance, as required for medical face masks and particle-filtering half masks, the effectiveness of the mouth and nose covers in terms of general civil protection has now been confirmed in numerous scientific publications on the basis of the broad, international experience gained. The protective effect of the masks depends on the tightness and quality of the material used, the adaptation to the shape of the face and the number of layers. Tightly woven fabrics are, for example, more suitable in this context than lightly woven fabrics. By wearing good ?everyday masks? according to the current state of knowledge, the risk from droplets containing pathogens can be significantly reduced.
(Source: BfArM)
MNS-ComBASE in 3 colors
The kela® mouth and nose mask MNS-ComBASE consists of a 3-layer hydrophobic (water-repellent) non-woven fabric with a material thickness of 25-30g/sqm per layer, which meets the above-mentioned requirements of the BfArM. MNS-ComBASE are characterized in particular by a very low breathing resistance and are used by our customers in the private sector, in which a distance to the opposite can also be maintained.
We offer other everyday, community or makeshift masks in colored, colorful patterns. As a rule, the front fleece is not a thin polypropylene fleece, but a thicker, more printable, polyester or fabric fleece. We still manufacture these masks like medical masks and use a protective filter fleece, also known as meltblown, as the middle layer. The use of a polyester or fabric fleece usually means that the normative requirements for low breathing resistance cannot be met, although the protective effect of the meltblown is no less.
Please select the category in our web shop COLORFUL PROTECTIVE MASKS out
From the production room
We manufacture everyday, community and makeshift masks on fully automated production systems